Office and the role of General Attorney
Biography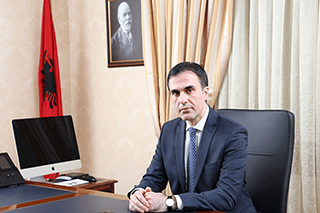 Olsian Çela
General Prosecutor

Mr. Olsian Çela was elected as the General Prosecutor of the Republic of Albania in December 2019.
Mr. Çela has contributed to the Albanian Justice System as a prosecutor since 2001. He started his career as prosecutor in 2001 in the Prosecution Office attached to the Judicial District Court of Tirana.
During 2004-2019, he served as prosecutor at the Prosecution Office for Serious Crimes and was also Head of this Prosecution Office during 2008-2012. During the same period, Mr. Çela served as a member of the High Prosecutorial Council.

During his career, he has represented the Albanian Prosecution Office for several years at the Consultative Council of the European Prosecutors.

Mr. Çela graduated as a lawyer from the Faculty of Justice, University of Tirana in 1999. He received the status of magistrate prosecutor since he graduated from the School of Magistrates in 2002. In 2008, he completed the "Chevening Fellowship" programme at the International Academy Bramshill in Great Britain.


Since 2019, Mr. Çela holds the position of Deputy Chairman of the Governing Board of the School of Magistrates. Whereas, during 2010-2014, he was a member of the Governing Board of the School of Magistrates (now Governing Board).

Mr. Çela has a vast academic experience in various Faculties of Justice in the country. In addition, he has a long experience of collaboration with the School of Magistrates with its training programmes since 2008.