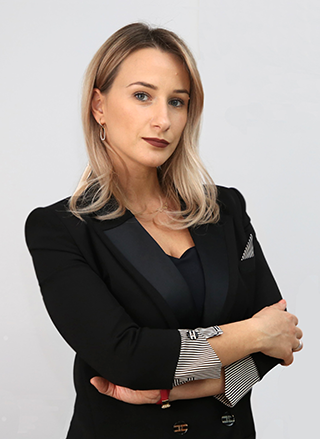 Pranvera Pustina
Prosecutor, Director, Directorate of Foreign Jurisdictional Relations in the General Prosecutor's Office
Ms. Pranvera Pustina is a magistrate prosecutor and she has held the post of the Director of the Prosecutor General Cabinet since 2020. She graduated as a lawyer from the Faculty of Justice, University of Tirana (2004-2008). She graduated from the School of Magistrate (2008-2010) and now she bears the title of "Advocate" conferred upon her by the Chamber of Advocacy in Tirana in 2014.
Ms. Pustina started her career in the system of the Albanian Prosecution in 2010 at the Prosecution Office attached to the First Instance Court of Tirana. Through the first decade, she served in the Prosecution Office of Kruja and for 4 consecutive years in the Prosecution Office for Serious Crime in Tirana. During her exercise of duty as a prosecutor in the Prosecution Office for Serious Crime, she held the position of Head and Supervisor of the Public Relations Service.
Ms. Pustina was a prosecutor member of the first Joint Investigative Team in Albania (JIT) in 2016 and she was Head of the second Joint Investigative Team in 2017-2019. She has been a lecturer in several university institutions in the country since 2014 and she has taught "Criminal Law", "Family Law" and "Criminal Economic Law" subjects.
Ms. Pustina has performed a series of qualifications in the country and abroad from prestigious institutions. She has attended "Investigation and trial of corruption in high levels" at CEELI Institute in Praga and she has been trained for "Trafficking of weapons", "Fight against the organised crime" or specific issues such as "Air safety" as well. She is fluent in English and Italian.